Staff Spotlight: Rafal Szczurowski, CUNY BA Academic Advisor
Interview by CUNY BA Student, Karl Taps (Ancient Mediterranean Religions, Hunter College '22)
Karl Taps: What professional path or experience brought you to CUNY BA?
Rafal Szczurowski: From my prior positions at the United Nations, Security Council Report, CUNY Central Office of Admission, and in journalism, came a realization that contemporary challenges, on local and global levels, require multilayered responses, from art for social justice, environmental science for climate change, biology and engineering for sustainable development, humanities for intercultural tolerance, to public health for global pandemics. CUNY BA educates well-rounded students capable of taking up multidimensional challenges of the 21st century. I was attracted to CUNY BA because it emphasizes interdisciplinary and cross-departmental education. This approach empowers students to become engaged citizens. The key benefit of this pedagogy is that students are in charge of their curriculum and build it around matters that they are passionate about. This process transforms their academic experience. Students also become more active in their local and global communities promoting inclusiveness, diversity, and gender parity.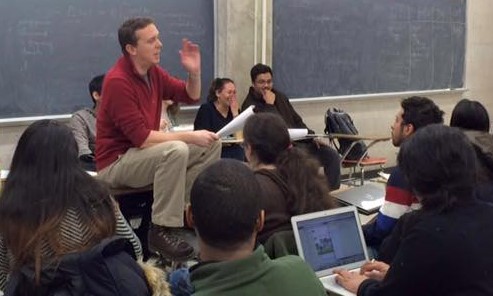 KT: What might CUNY BA students be surprised to learn about your role and responsibilities?
RS: In CUNY BA we advocate for interdisciplinary studies, experiential and service-learning as well as translational research and engaged education. For example, as a United Nations Alliance of Civilization Fellow, I went to the Middle East and presented CUNY Service Corps and CUNY BA as case studies in lectures and discussions on the role of education in preventing radicalization and xenophobia. I also had the honor of representing CUNY BA at the 66th United Nations conference titled "Education for Global Citizenship," which took place in 2016 in Gyeongju, Republic of Korea. Thanks to my efforts in drafting the Gyeongju Action Plan, the document includes a provision urging all countries to promote experiential learning, interdisciplinary studies, and intercultural exchanges.  
KT: What is one thing you want CUNY BA students to know or understand about your role?
RS: It is while teaching an International Studies course at City College that I experienced an eye-opening epiphany, which solidified my role as an academic advisor and educator.  The moment came during a class discussion with one of my guest speakers, Iranian journalist and political dissident, Roozbeh Mirebrahimi. We spoke about his unlawful imprisonment in Tehran for covering the state murder of a Canadian-Iranian photojournalist in 2003. Visibly shaken, Roozbeh described his tortures and solitary confinement. At that moment, I saw in students' faces how impacted they were. What followed was a long moment of silence as they were absorbing a life-long lesson on the freedom of speech, freedom of press, and the rule of law. Such experiences inspire me to teach, advise, promote universal values, and cross-cultural understanding.
KT: Which project or achievement at CUNY BA are you most proud of?
RS: In 2011, many of my students returning from study abroad in Egypt spoke about historical changes in the region. Inspired by these brave young people, in October 2011, I organized an academic symposium on the Arab Spring. It was the first public event in CUNY on revolutions spreading through the Middle East. With this event, I initiated a series of CUNY BA academic lectures and conferences. They contributed to and broadened the academic discourse in our university. Many CUNY BA graduates shared with me that they joined the program because of my initiative. It allowed students to meet and interact with like-minded academics and find faculty mentors. 
KT: What is your superpower?
RS: I can do a decent kickflip on my skateboard.