CUNY and NYC DOE College Immigrant Ambassador Program
CUNY is launching an exciting new program with the NYC DOE. The CUNY Immigrant Student Ambassadors program will match CUNY DOE alums with current high school students to provide academic advisement, college planning, and career coaching. 
Want to impact a young immigrant student's life? Apply to the CUNY and NYC Department of Education's Immigrant Ambassador Program, where you will work with high school students for an academic school year, keeping them engaged in their educational journey and supporting the preparation of their postsecondary goals. A stipend of $8,000 will be provided. You can see the qualifications, responsibilities expected, and flyers below.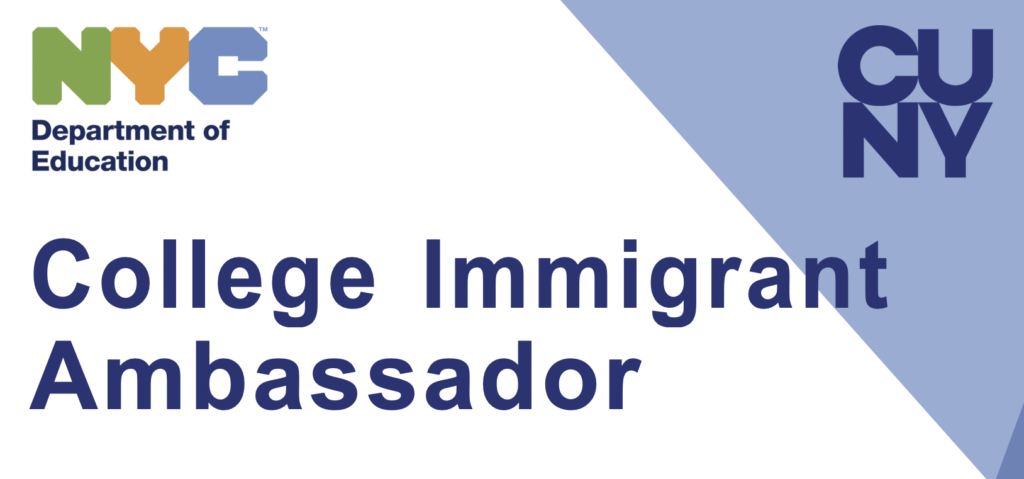 Deadline: Sunday, September 19, 2021, at 11:59 pm
Qualifications:
Must be a CUNY student, in good academic standing
Must have Sophomore class standing, or higher
Must be a graduate of an NYC DOE high school
Lived experience as an immigrant NYC DOE high school student strongly preferred
Insight and experience managing undocumented student issues highly valued Fluency in another language is preferred
This opportunity is open to all students, regardless of immigration status. If interested, complete this application form by Sunday, September 19, 2021, at 11:59 pm.
Responsibilities include but are not limited to:
Serve as a mentor, guide, academic resource, coach, role model, and friend to "near-peer" high school students;
Facilitate the care, support, and learning of high school mentees through in-person 1-on-1 and group engagement 2 schools days a week;
Participate in mandatory virtual, ongoing training provided by the NYC DOE and CUNY on Friday mornings;
Check-in with an NYC DOE School Counselor or ENL teacher to adequately plan supports for your assigned mentees
Preserve strict confidentiality of student information;
Share knowledge about CUNY-wide and college-specific programs, resources, policies, and culture;
Be willing to share information, experiences, challenges, and accomplishments in a developmental way;
Facilitate academic programming, postsecondary planning, career exploration, and college applications;
Develop mentees in peer advocacy and community organizing; Foster awareness of community resources that support immigrant families in general, and undocumented community members in particular;
Questions: Maureen.hartigan@cuny.edu
Direct link to the application here:
https://cunystudentaffairs.az1.qualtrics.com/jfe/form/SV_7VhlaRIiEHQHAB8