Staff Spotlight: Nikko Vaughn, Continuing Education Specialist (Bard, CUNY BA)
Interviewed by CUNY BA Student, Angela Sanchez (AOC Diversity in Consumable Market and Performing Arts Management, Hunter College '23)
● What was the drive of passion for your career?
A huge passion for my career is transforming lives through education. My passion for uplifting lives with knowledge was sparked while working for the Bard Prison Initiative (BPI). The BPI program started by providing college education to people who were incarcerated, but has expanded into the community with the creation of Microcolleges. This program allows all students to engage in rigorous liberal studies, ending with students earning associate's and bachelor's degrees from Bard. As someone who has been justice impacted and has been through the Bard program myself, I know firsthand how impactful education can be. I want to ensure that all students have the right and support necessary to obtain an education despite societal barriers.
● What led you to end up working at CUNY BA?
Several BPI alums who had participated in the CUNY BA program raved about the CUNY BA team and the opportunity. Being a graduate of and then working for Bard College helped me realize that CUNY BA is a fantastic place for Bard students to learn and grow. Because of the opportunity to design an educational experience that is suited to them based on their prior Liberal Arts experience with Bard, CUNY BA provides the right mix of space, intimacy, and resources to make highly motivated students succeed.
● Why do you feel that CUNY BA is important?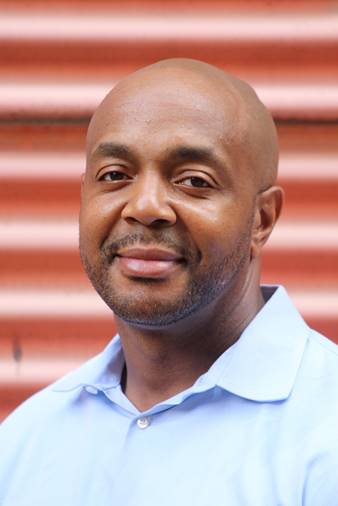 CUNY BA is important because a student can follow their passion and study what they truly want here. When a student is given the ability to follow and study what they truly care about, there is no stopping them. I've seen firsthand how students' attitudes toward education change. Having the ability to mold and oversee their educational career brings a whole new meaning to
education engagement and attainment.
● If you could become a CUNY BA Student, What would your self-designed major (Area of Concentration) be?
I would name my AOC the "Reconstruction of mathematics education." You often hear people say, "I am not a math person." Whenever I encounter people voicing those sentiments, I say you were taught math incorrectly. I have always found myself frustrated with how teachers taught math, particularly with equations. For example, PEMDAS is not correct when applied to two-step equations and inverse functions. If I had the opportunity to study at CUNY BA, I would study and research math pedagogy and the best ways to make mathematics accessible to all.
● Tell us more about your position in CUNY BA:
I serve as a recruitment and retention officer. I explain the diverse aspects of the CUNY BA program to potential students and the fabulous team dedicated to ensuring their success. In my role, I seek to demystify the college enrollment process by providing students with the resources and information they need to make the most informed decisions about their academic trajectories and career goals. In addition, I help students think about and strategize for navigating the various barriers to their success.