Interview with Elvis Bakaitis (Head of Reference at the Mina Rees Library at The Graduate Center)
Interview by Samantha Shane (Psychology and Screenwriting, Brooklyn College, '22)
Hi Elvis! You are the Head of Reference at the Mina Rees Library at the CUNY Graduate Center, which is newly reopened and accessible to CUNY BA students. Can you tell us a little bit about your background?
Absolutely, and we're so excited to welcome back CUNY BA students. The Mina Rees Library became the first to reopen to all CUNY students–we're truly committed to serving the university, in addition to our Graduate Center community.
And happy to introduce myself–I'm proud to serve on the University LGBTQ Council and also as a board member of CLAGS: The Center for LGBTQ Studies. I've done a lot of work with colleagues on the Council to ensure that CUNY students have the ability to use a preferred name and update their gender as they choose. Prior to CUNY, I worked unofficially as a queer history educator, hosting many workshops and presentations based on an illustrated zine series that I created, called "Homos in Herstory."
I see that you are very active not only in the CUNY community but also as a writer and activist. What is the project you are currently most excited about?
Thank you for the kind words! I also volunteer at the Lesbian Herstory Archives (LHA), and in 2020 served as the Principal Investigator on our application for a grant from the Mellon Foundation, which has made possible digital exhibits and an oral history project. If you haven't been there, LHA is the world's first and largest collection of materials about queer women and transgender people–housed in a building in Brooklyn's Park Slope neighborhood. I'm always deeply excited to see others become engaged with the archives–it's kind of like a museum where you create the narrative, through self-directed inquiry.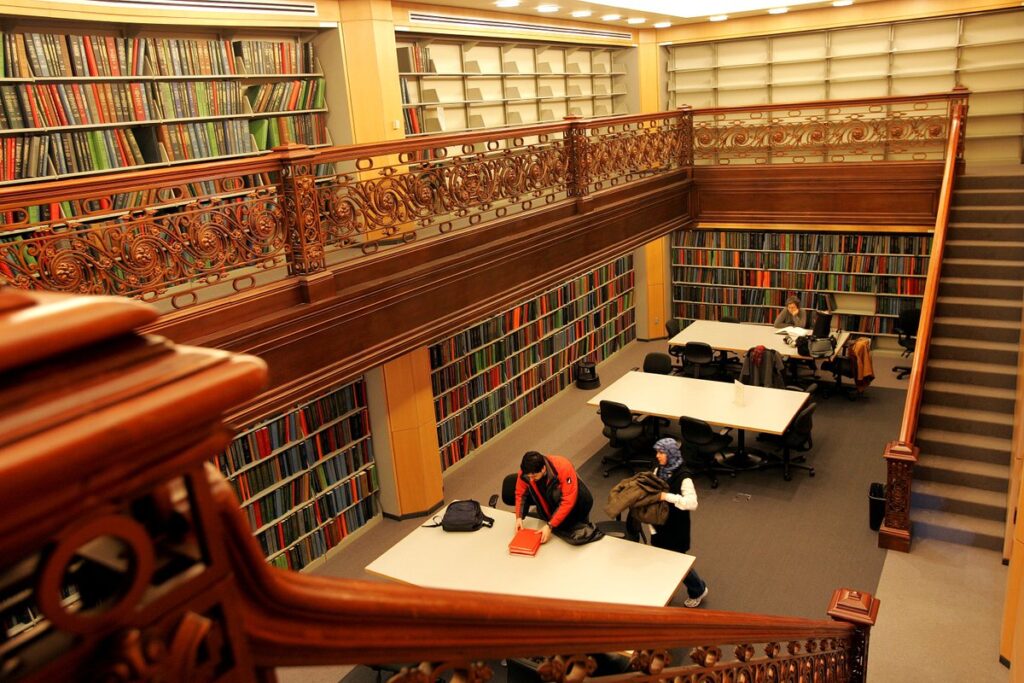 Can you tell us a bit more about the Mina Rees Library and your role there?
Sure thing–the Mina Rees Library is truly more than meets the eye. Emily Drabinski (Interim Chief Librarian) recently became the President of the American Library Association (2023-24), and others are very actively involved in similarly national-facing professional organizations and activities.
In terms of my role, I coordinate the Open Knowledge Fellowship, which is supported by the Office of Library Services. In the Fellowship, we help train doctoral students who are teaching at CUNY on how to replace expensive textbooks with free Open Educational Resources (OER). The goal is to lower course costs for undergraduates–so hopefully CUNY BA students will indirectly feel the impact of this work.
What are some things CUNY BA students should know about the library?
CUNY students have an awesome wealth of library resources all around them–literally. There is a federation of 31 libraries across the 25 CUNY campuses, in every borough of New York City. This means that anywhere you are in the city, you're close to available study space, free Wifi, hundreds of useful research databases, books, and other resources. For example, Hunter College is home to the Zabar Art Library, Health Professions Library, Cooperman Library, and a Social Work Library. If you're not sure about which CUNY Library might be a good fit for your needs, feel free to contact us. We're available for research support or other questions via a 24/7 live chat service Ask a Librarian.
Is there any advice you would give to the students who are new to using the library?
First and most important: the Library is intended to be a welcoming space. If you are not sure how to find a book on the shelf (or in Library lingo, in the "stacks"), please come ask us at the Reference Desk on the Second Floor. We are more than happy to help you navigate the space, and we aim to offer a friendly library experience.
I'd also encourage students to check out our Research Guides, particularly the one about Grants & Funding. If you've ever wondered how people find out about Fellowships, travel grants, and prizes, there are databases to help you find these opportunities. It's never too early to start thinking about how you can find funding for the work that you love, and the Office of Sponsored Research is also available to assist.
Okay, this one is just for my curiosity, I learned about the Dewey Decimal System in school when I was a kid. Do you still use it in libraries?
Great question! You will see the Dewey Decimal System in public libraries, but not in an academic or college library, where we use the Library of Congress (LOC) classification system. You may notice the difference in the call numbers themselves–Dewey only uses numbers, whereas LOC is alphanumeric, with numbers and letters. The Dewey Decimal System was developed in 1876 and is unfortunately a product of its time: many have pointed out the evident racism and Western ethnocentrism of its categories. Dewey was also a complicated character, with a known track record of harassment and questionable views towards women. Perhaps luckily, you will not have to engage with the Dewey Decimal System at your CUNY library.
What makes the Mina Rees Library a unique and exciting place to be?
The Mina Rees Library is truly a dynamic place. The intense level of doctoral study gives it unique energy, but you'll also notice that the study environment is pin-drop quiet. This is the place to come for intensive study, and to pick up some inspiration from fellow students, future scholars, and innovators.
The Graduate Center is also a thriving hub of activity–strongly worth checking out are the public programs and events, through entities such as the Leon Levy Center for Biography, Center for the Humanities, CLAGS: The Center for LGBTQ Studies, Gotham Center for New York City History, and many more. Here's a list of the various centers and institutes across CUNY–there are simply oodles of events at The Graduate Center and ways to get involved. 
Is there anything else you'd like to add?
Students might be interested in the MALS program, or Master's in Liberal Studies–this 30-credit Master's program is very similar to CUNY BA since it allows for an individualized path of study. There are many different Master's programs offered at The Graduate Center, including Women's & Gender Studies, a fully-funded Astrophysics program, Biography & Memoir, and more.
Elvis will be giving CUNY BA Students a tour of the Mina Rees Library. You can sign up below.

CUNY BA Online Workshop – Graduate Center Library Resources for CUNY BA Students
CUNY BA Students have limited access to the Mina Rees Library at the CUNY Graduate Center. The Library will be hosting an online tour to talk more about the Library and the resources available to CUNY BA students.
REGISTER FOR THE GRADUATE CENTER, MINA REES LIBRARY TOURS:
September 14 at 2 PM: Library Tour for CUNY BA Students
September 20 at 11 AM: Library Tour for CUNY BA Students