CUNYBA Event: 2022 Whitney Biennial Tour
In celebration of the 50th anniversary of the CUNY Baccalaureate for Unique and Interdisciplinary Studies (CUNY BA) program invited some CUNYBA students and alumni for a tour of the 2022 Whitney Biennial. The tour was led by Joseph Henry, CUNY BA Graduate Fellow, and Joan Tisch Teaching Fellow at the Whitney Museum.
A highly anticipated museum event since 1932, the Whitney Biennial showcases the newest voices in contemporary art and poses pressing questions about American culture, politics, and identity. Joseph guided each tour around the Biennial's two floors, a thoughtful and exciting outing for the CUNY BA community!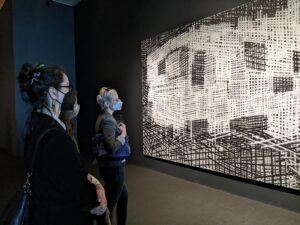 About the 2022 Whitney Biennial
The Whitney Biennial has surveyed the landscape of American art, reflecting and shaping the cultural conversation, since 1932. The eightieth edition of the landmark exhibition is co-curated by David Breslin, DeMartini Family Curator and Director of Curatorial Initiatives, and Adrienne Edwards, Engell Speyer Family Curator and Director of Curatorial Affairs. Titled Quiet as It's Kept, the 2022 Biennial features an intergenerational and interdisciplinary group of sixty-three artists and collectives whose dynamic works reflect the challenges, complexities, and possibilities of the American experience today.