Do you want to be involved in the CUNY BA community, gain professional experience and meet other students in the program? Contact us at slc.cunyba@gmail.com to connect and join the Student Leadership Council (SLC)!
WHAT IS THE STUDENT LEADERSHIP COUNCIL?
The SLC is the first and only CUNY BA student-led organization. Our mission is to strengthen the voice of students and enrich their experience in CUNY BA. We host events, coordinate projects, and plan initiatives that will benefit the CUNY BA community. 
WHY SHOULD I JOIN?
Joining the CUNYBA SLC is a great way to:
Build your resume
Improve your communication, teamwork, and leadership skills
Make new friends & connections
Create positive changes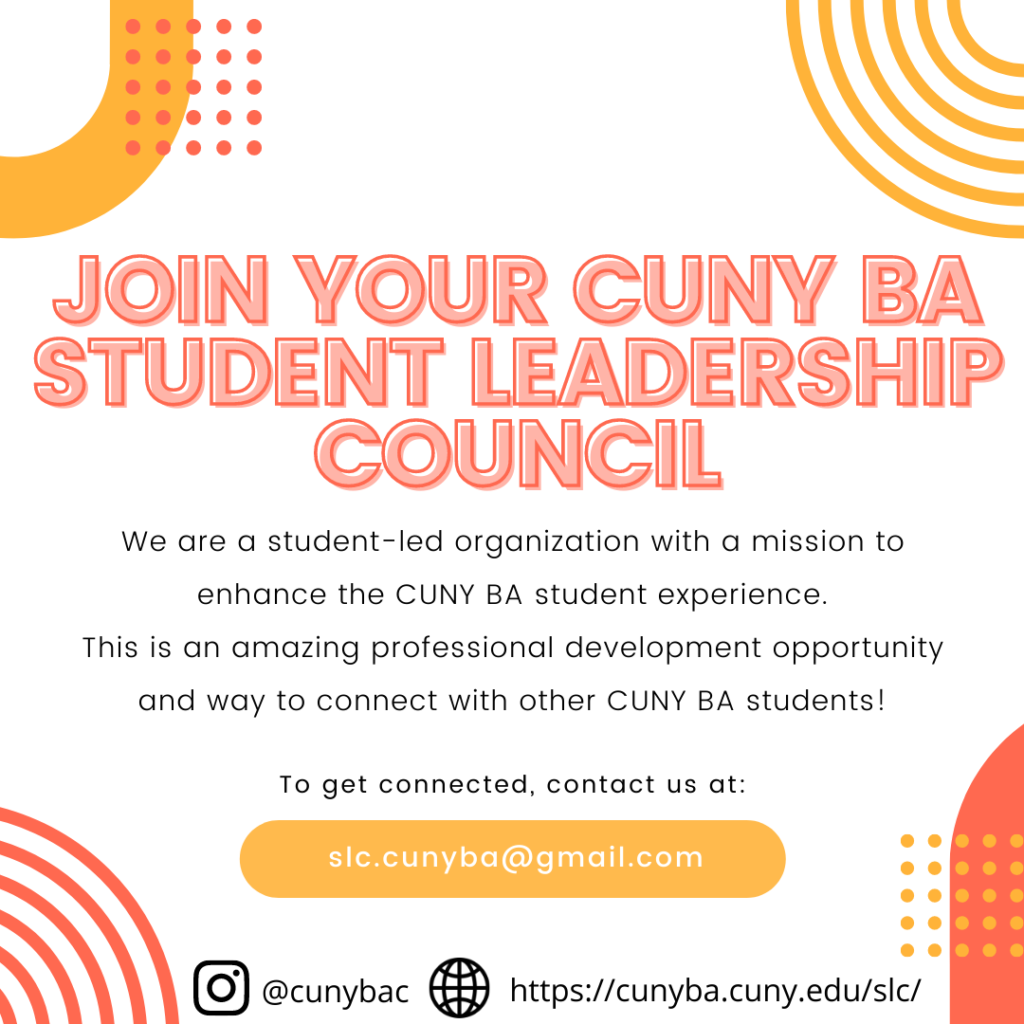 HOW CAN YOU BE INVOLVED?
Members can be involved in many ways such as:
Contributing to brainstorming sessions
Helping in planning and hosting events
Identifying resources for students
Attending discussions in weekly meetings
Helping with Social Media Advertising
Our weekly meetings are open to all students and take place on Wednesdays, from 1-2 PM EST in the Spring 2022 semester. Attending these meetings is a great way to meet the SLC executive board, hear updates, and share your own ideas and thoughts. However, if you cannot attend, you can still be involved in many other ways!
CHECK YOUR EMAIL FOR THE ZOOM LINK TO JOIN
Contact the SLC at: slc.cunyba@gmail.com to get connected!
We look forward to meeting you and wish everyone a wonderful semester!