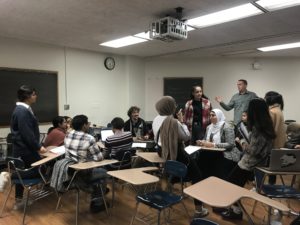 From our friends at YMCA:
https://ymcanyc.org/afterschool-counselor-brooklyn
Afterschool Counselor – Brooklyn
SALARY: $15.00 P/H
PART-TIME
The YMCA of Greater New York is here for all New Yorkers — to empower youth, improve health, and strengthen community. Founded in 1852, today the Y serves a diverse population of more than half a million New Yorkers who learn, grow, and thrive through programs and services at our 24 branches. Community is the cornerstone of the Y. Together, we connect active, engaged New Yorkers to build stronger communities.
The Brooklyn YMCAs is seeking qualified individuals who, under the supervision of the Y After School Site Director, will play a critical role in the successful operation of the Y Afterschool program, including Holiday Camps. The Afterschool Counselor will be responsible for providing a safe and positive environment for school age children, and provide opportunities for learning, interaction, and academic/ personal growth. Y Afterschool programs operate between the hours of 2:30 pm – 6:00 pm, Monday – Friday and during public school breaks.
Responsibilities:
Ensure the health, safety and well-being of participants in the program, by providing appropriate supervision at all times.
Plan and implement meaningful activities, lesson plans, and special events that are age-appropriate, exciting, challenging, and values based in the areas of arts, STEM, character development, creative expression, community service, physical fitness, and/or nutrition.
Prepare the learning environment, lessons and necessary supplies for program activities.
Support the coordination and presentation of a culminating performance at the end of the program cycle, if applicable.
Provide support to Activity Specialists with activity implementation.
Assist children with homework and academic enhancement activities.
Work cooperatively with program and school staff.
Promote an inclusive, welcoming, and respectful environment that embraces diversity.
Create and maintain a strength-based, youth-focused atmosphere that is consistent and sensitive to the needs of participants with learning, emotional, or behavioral differences.
Serve as a positive role model for participants.
Maintain accurate program documentation (attendance, sign in / out forms, behavior / incident / accident reports, as appropriate).
Understand and communicate the YMCA's core values and the goals of the Y After School program to participants and care givers.
Develop and maintain positive relationships with parents and guardians through regular communication about their child's strengths and areas of growth.
Adhere to all Department of Health, YMCA of Greater New York, and funder standards, expectations, and regulations.
Actively participate in training sessions, designated meetings and special events.
Qualifications:
High School diploma or equivalent required; college credits preferred.
Minimum of one year of experience working with youth.
General knowledge of MS Word, Excel, and PowerPoint; Access, Adobe PageMaker and Photoshop preferred.
We offer an exciting and innovative work environment with a culture committed to serving all members of our community. As a leading not-for-profit, community service organization, our Association relies heavily on fundraising to support the wide range of programs we proudly provide the communities we serve. Our expectation is that all staff promotes participation of their branch fundraising efforts in some capacity.
Apply:
If you would like to be a member of our dynamic team, please email your cover letter and resume with subject line "Afterschool Counselor" to mrivas@ymcanyc.org (Mercedes Rivas).
North Brooklyn YMCA
Attn: Mercedes Rivas
35 Starr Street
Brooklyn, NY 11221
mrivas@ymcanyc.org