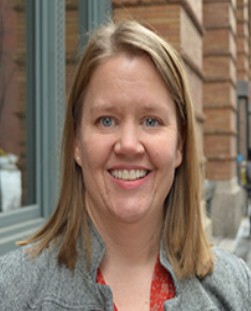 Dr. Jody Clark Vaisman joined CUNY in 2010 and most recently served as the Director of Honors Programs at Baruch College. In this role, she led Macaulay Honors College at Baruch, National and Prestigious Fellowships, local Honors programs, and an initiative on undergraduate research and creative inquiry. Working in higher education for over 25 years, Dr. Clark Vaisman has spoken nationally on higher education and won the 2015 Baruch College Excellence Award for Innovation. At Baruch, she created the Inquiry Scholars Honors program to increase student access to undergraduate research opportunities and is the co-founder of Baruch's undergraduate Research and Creative Inquiry Expo at Baruch.
Jody has worked with CUNY BA students for 12 years and with individualized major students while working at NYU. Jody's scholarly interests focus on increasing access to high-impact, experiential learning opportunities, such as undergraduate research, study abroad, and civic engagement for underserved populations. 
She has taught graduate and undergraduate courses at Baruch, NYU, and Pace University, including a graduate course on qualitative and quantitative research methods in the Marxe School of International and Public Affairs. Jody holds Master's and PhD degrees in Higher and Post-secondary Education from NYU, where she received the President's Award for Leadership. She has an Honors BA in English Literature, Phi Beta Kappa. She is fluent in Brazilian Portuguese.