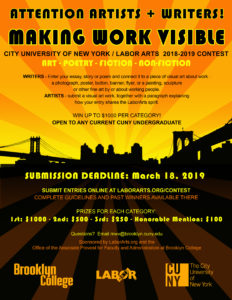 The contest is open to CUNY undergraduates with a poem, essay, fiction piece or artwork that can relate to the theme "Making Work Visible" The application process is easy, details are at LaborArts.org/contest.
Participants can win one of four $1000 prizes. The deadline is MONDAY MARCH 18, 2019
Prizes in each of four categories: 1st – $1000; 2nd – $500; 3rd – $250; honorable mention $100.
Details at LaborArts.org/contest
Questions? – contact Brooklyn College Director of Graduate Studies Patrick Kavanagh at mwv@brooklyn.cuny.edu.