We wanted to bring to your attention that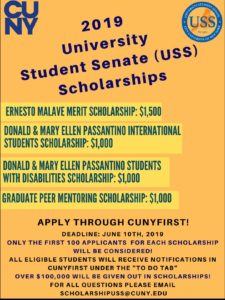 the 2019 USS Scholarship is currently live through CUNYFIRST! USS annually gives out over $100,000 in scholarships to students.
All eligible students will receive a notification on CUNY first under the "to do tab" to apply. The deadline to apply is Monday, June 10th! Only the first 100 applicants for each scholarship will be considered. USS delegates and alternates are ineligible to apply.
For all questions please email scholarshipuss@cuny.edu!