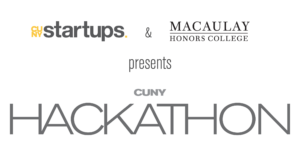 The CUNY Hackathon aims to bring together creatives, developers, marketers, and entrepreneurs to build solutions problems unique to our five tracks: Finance, Health, the Environment, the Arts and Social Impact. Over the weekend-long hackathon, students will be able to create technical solutions in each of these categories.
At each stage of ideation, creation and execution, we will have mentors along the way to guide you via technical assistance and support. For those interested in learning more about different sides of tech we will be offering workshops.
Don't forget there will be free food, a dance party, and PRIZES!
To sign up as a participant, you must be a current a undergraduate or graduate student of any CUNY campus (all majors welcome). To register, click here.
To sign up as a volunteer (interested in helping out with events with the ability to attend workshops and network with tech companies), click here.
To sign up as a mentor (those mentioned earlier in providing technical guidance, click here.
Event Details
When:
Friday, October 18th: 4pm – 12am
Saturday, October 19th: 9am – 12am
Sunday, October 20th: 9am – 3pm
Where: Baruch College
Yes. The best tech minds from IBM, Google, and other NYC tech companies will run workshops to teach cutting-edge tools, languages and APIs.
Are hackers allowed to leave?
Yes, while attendance is required all three days, hackers are allowed to leave the facilities to go home. DO NOT remove your wristband.
Is there a minimum or maximum number of people per team?
Ideally, there should be 3-5 people per team.
Do i need to have an idea?
No, you can join a team and decide on an idea to work on together.
Yes! Absolutely. Prizes are announced closer to the event.
I can't code. Should I still attend?
That's okay! If you are a beginner coder, come to workshops and talk with mentors who can help guide you. If you're not a coder, other skill sets (design, marketing) are still welcome and useful for teams.