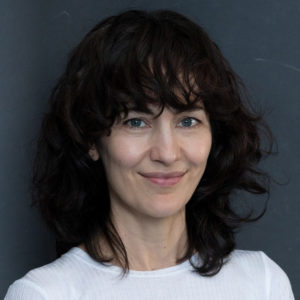 CUNY BA student Amber Scorah was raised a Jehovah's Witness and was taught that her purpose in life was to preach and save others. Her zeal brought her to Mainland China where she learned Mandarin, preached underground, started a highly successful podcast and eventually came to shift her perspective and leave the religion.
Her journey brought her to New York City, and eventually to CUNY where she began her studies at Brooklyn and Hunter Colleges 2010. In 2015 she took a break from her studies to have her first child, her son Karl, who tragically died in his first hours at daycare. This led Amber to become a national advocate for universal parental leave of at least six months, so that no parent needs to make the choice to leave their young child in someone else's care. She wrote a powerful article about the topic in The New York Times.
Now mom to a 3 year old daughter, Amber decided to resume her studies by joining CUNY BA in spring 2019 to pursue an area of concentration in the Psychology of Religion, working under the guidance of Barbara Sproul of the Program in Religion at Hunter College, which will prepare her to specialize in helping people leave cults and highly-controlled groups.
Amber's memoir, Leaving the Witness: Exiting a Religion and Finding a Life was published earlier this month. She's recently been interviewed on The Daily Show with Trevor Noah, NPR Morning Edition, NPR Fresh Air, and Longreads, and her book was named one of the best books of summer 2019 by Oprah Magazine. She's also authored two recent pieces in The New York Times: 'Surviving the Death of My Son After the Death of My Faith' and 'Having a Child After Losing a Child'.
The New York Times Book Review says "Scorah's book, the bravery of which cannot be overstated, is an earnest one, fueled by a plucky humor and a can-do spirit that endears. Her tale, though an exploration of extremity, is highly readable and warm. "
CUNY BA is excited to celebrate Amber's achievements and to share them with our community.