As the CUNY Baccalaureate enters its sixth decade, we invite you on a virtual journey through its history since it was founded in 1971. Here you will find a visual representation of our initiative to collect and showcase information about the program and its community members over the years.
This multimedia-equipped timeline will continue to grow and be enhanced with additional content… with your help. We need YOU to tell us your CUNY BA story, and to share items that we can post to the timeline. Help us build our digital archive by sending us photos from your time as a CUNY BA student, faculty mentor, or affiliate, sharing videos of yourself describing a CUNY BA memory, or submitting other written content about your connection with the program. We look forward to hearing from all of you!
Unique & Interdisciplinary
Want to support CUNY BA Students?
CUNY Baccalaureate for Unique and Interdisciplinary Studies is the beneficiary of the generosity of alumni and friends who care about supporting outstanding students. Gifts have an immediate impact and help students thrive academically and achieve their dreams of a quality education.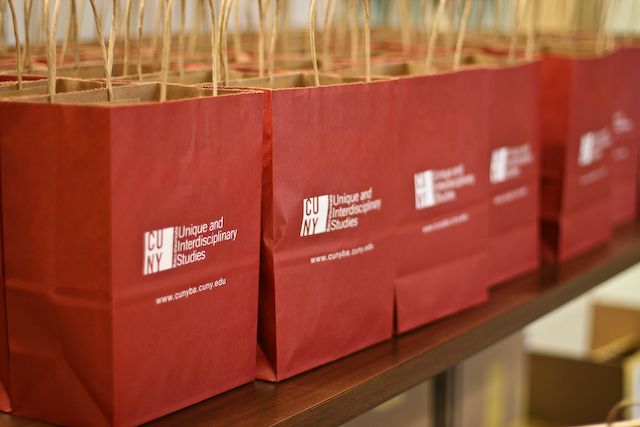 Want a piece of CUNY BA? Check out the CUNY BA Store.
Select from a number of CUNY BA-branded items including mugs, caps, t-shirts, and more! Don't know what to buy for the CUNY BA person in your life? Gift certificates are available. Bulk rates also available. All transactions are processed securely.
50th Anniversary Planning Committee
Analie Cruz (CUNY BA Assistant Program Officer)
Ariana Caragliano (CUNY GC Academic Program Specialist & Adjunct Lecturer)
Teresa Curmi (CUNY BA Interim Academic Director)
Kate McPherson (CUNY BA Senior Academic Advisor)
Adam Raabe (CUNY BA Alum, Guest Speaker, and Scholarships Committee Member)
Hamad Sindhi (CUNY BA Webmaster)
Special thanks to Johnathan Hoyte for help with archival research.
Image Credits
Images of Mina Rees, Albert Bowker, Harold Proshansky, and Robert Kibbee courtesy of The Graduate Center and the City University of New York.
"Student fashions in the 1970s", from Brooklyn College, City University of New York.
Image of a Brother typewriter by Laura Rivera on Unsplash. 
"Women's Studies Program Office," CUNY Digital History Archive, accessed October 4, 2021, https://cdha.cuny.edu/items/show/5382.
Image of a 1984 Macintosh Apple computer by Jason Leung on Unsplash.
Image of floppy disks by S Migaj on Unsplash.
Image of audio cassettes from Canva.
Image of West 43rd Street, New York, NY.
Image of a compact disk by Lucky Alamanda on Unsplash.
Image of a classroom by Shubham Sharan on Unsplash.
Image of a mobile phone by Alexander Andrews on Unsplash.
Image of woman writing on a whiteboard on Unsplash.
Image of 365 5th Avenue by Adam Raabe.
Image of MacBooks on a table by Marvin Meyer on Unsplash.
All other images courtesy of CUNY BA.