About CUNY BA's Student Speaker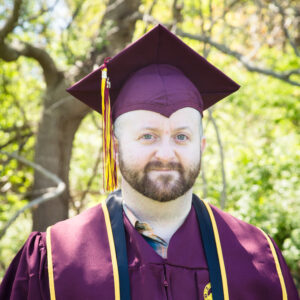 Kyle Aaron Reese will graduate earn his Bachelor of Arts degree, summa cum laude, from CUNY BA in June 2021 with an area of concentration in Queer Psychosocial Research under the mentorship of Prof. Paisley Currah (Political Science, Brooklyn College and The Graduate Center). He serves as a student representative on the University Committee on the CUNY Baccalaureate.
Kyle is the chair of Brooklyn College's LGBT Resource Committee, which works to fulfill the needs of LGBT students, staff and faculty on campus. He sits on the Executive Committee of the College's Policy Council to present resolutions to the Council to create positive change for the Brooklyn College community.  He also works as the LGBT Studies Internship Liaison, connecting students with internships at LGBTQ organizations within the community.  ​He is the founding president of Queer Student Action Alliance at Brooklyn College, whose purpose it is to affect social and policy change at the College.
During the 2019-2020 school year, Kyle served as the New York Regional President of Phi Theta Kappa International Honor Society from 2019 to 2020, where he crafted the region's Diversity and Inclusion Statement and worked with his regional team to embody and encourage diversity throughout the region.
Kyle's work has been recognized by academic institutions and professional organizations.  His paper about LGBTQ Movements in being published in Phi Theta Kappa's national literary anthology called "Nota Bene," and another paper exploring the intersection between drug addiction and gender variance won 2019 Best Undergraduate Paper from CUNY's Center for LGBT Studies (CLAGS).
About CUNY BA's Commencement Speaker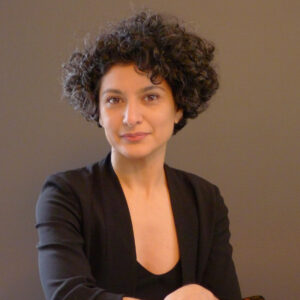 Kayhan Irani is an Emmy-award winning writer, a performer, and a Theater of the Oppressed trainer. She creates art to build community, offer spaces for healing, and to engage audiences in social justice issues. Kayhan was one of ten U.S. artists named by President Obama's White House as a 2016 White House Champion of Change for her storytelling work.  She is currently working on a new one-woman show, There is a Portal, which asks: Can the story of an Iranian-Indian immigrant offer a space of healing for all Americans?
Her previous one-woman show, We've Come Undone toured nationally and internationally, telling stories of Arab, South Asian and Muslim-American women in the wake of 9/11. She was a Fulbright-Nehru Senior Researcher in 2012-2013 studying Parsi embroidery for her play, Tree of Seeds. Kayhan has trained hundreds of groups in Theater of the Oppressed and participatory storytelling tools over the years, both nationally and overseas, in Afghanistan, India, and Iraq. Clients include NGOs, government agencies, and community organizations interested in using in story-based strategies for engagement and education.
Kayhan's work has been supported by the BBC World Service Trust, The U.S. Environmental Protection Agency, Bronx Council for the Arts, the New York Foundation for the Arts, The NYC Mayor's Office of Media and Entertainment, The National Parks Service, and the American Society for Muslim Advancement. Her work has been written about in such publications as The New York Times, Race Forward Magazine, the N.Y. Daily News, and The Washington Report on Middle East Affairs.
Her published work includes co-editing Telling Stories to Change the World: Global Voices on the Power of Narrative to Build Community and Make Social Justice Claims (Routledge, 2008), and essays in Culturally Relevant Arts Education for Social Justice: A Way Out of No Way. (Routledge, 2015) and Storytelling for Social Justice: Connecting Narrative and the Arts and Antiracist Teaching, 2nd Edition (Routledge, 2019).
Kayhan earned her BA from CUNY BA in June 2008 with an area of concentration in Theatre and Social Change under the mentorship of Prof. John Krisky (Political Science, City College) and Prof. Dale Byan (Theater, Brooklyn College).
About CUNY BA's Faculty Speaker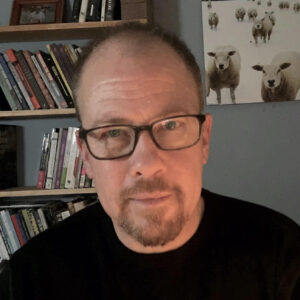 Paisley Currah is a professor of political science and women's & gender studies at Brooklyn College and The Graduate Center, CUNY and is the 2019-2021 Internal Endowed Chair of the Women's & Gender Studies Program at Brooklyn College. He serves as faculty mentor to Kyle Reese. He's written widely on the topics related to transgender rights, sex reclassification policies, and feminism. With Susan Stryker, he was the founding editor of TSQ: Transgender Studies Quarterly, the flagship journal of transgender studies. He co-edited, with Shannon Minter and Richard Juang, Transgender Rights, which won the Sylvia Rivera Award in Transgender Studies and was a finalist for a Lambda Literary Award. As a founding board member of the Transgender Law and Policy Institute he has advocated for transgender rights at all levels of government. His book, Sex is as Sex Does: Transgender Identities and the Politics of Sex Classification, is forthcoming from New York University Press.