CUNY BA Commencement 2022
Commencement is June 10, 2022 at 10 AM
Congratulations, your special day is coming soon!
We're thrilled to hold an in-person commencement ceremony this year in the Proshansky Auditorium at The Graduate Center, CUNY. We can't wait to celebrate our graduates with family, friends and the CUNY BA community.
Eligibility for Graduation
To attend the commencement ceremony, you have to be part of one of these (potential) graduating classes:
September 2021 graduate
January 2022 graduate
Potential June 2022 graduate
Potential September 2022 graduate
If you fall into one of these categories you are eligible to participate in CUNY BA's 2022 Commencement Ceremony. If you are unsure about whether or not you qualify for graduation, be sure to meet with your academic advisor ASAP and go over graduation requirements. Students must have completed a graduation audit in order to be eligible.
Dates to Remember:
Let Us Brag About You!
One of the many things that makes our commencement ceremony extraordinary is the opportunity we have to recognize each graduate; each will come to the stage to receive the letter of congratulations. In reading the names of the graduates, some of the honors and awards you have earned will be mentioned. In order to do so, we need to know what your honors are (from CUNY and beyond). We would also like to know who has been accepted to graduate school already and who has received raises, promotions or new employment opportunities as a result of earning their baccalaureate degree. Our Interim Academic Director, Teresa Curmi, will use some specific examples in her commencement remarks. Please complete the Updates and Achievements Form by May 20th.
Commencement Attire
Note that it is mandatory to wear an all-black cap and gown during the ceremony so do not forget to order yours. If you are renting a cap and black gown for your home college's ceremony, you may use the same attire for our event; in that case, you can rent a CUNY BA stole and tassel only.
Caps and gowns can no longer be ordered online and shipped individually. Orders can still be placed by calling Oak Hall at 860-388-9647 Monday through Friday between 9:30am-3:00pm. The deadline is this Friday, May 13. Orders will be shipped to the CUNY BA offices at The Graduate Center. We will communicate pick up days/times with graduates as the shipment comes in.
COVID Procedures
Our ceremony takes places at The Graduate Center, CUNY. We closely follow The Graduate's Center Guidelines for Re-Opening and Campus Safety Policy and CUNY's Visitor Policy.
All staff, graduates, and visitors are required to be fully vaccinated. Current CUNY students (active in the Spring 2022 semester) must present a valid building access pass through Cleared4. Visitors and recent graduates (January 2022 and earlier) must present proof of vaccination that shows at least the first two doses of the Pfizer or Moderna vaccine (or single dose in the case of J&J) on either their CDC vaccination card or Excelsior Pass.
Masking is recommended and we will have masks available when needed. We recommend safe physical distancing when gathering in the foyer and when seated in the auditorium. Parties are encouraged to leave an extra seat between them and the next party wherever possible.
Commencement Registration
All students wishing to participate in the commencement ceremony must register for themselves and their guests here.
Participation at Home College
At CUNY BA we recognize that our students often also feel a strong bond to their home campus. We've scheduled our commencement ceremony at the tail end of commencement season so you can participate in both your home campus and our ceremonies.
In March, our Registrar sends the names of graduates and potential graduates to the senior colleges. Please note: some colleges do not allow upcoming September graduates to walk in June while CUNY BA does. If you have questions about your home college's commencement please contact your home college directly. You will be responsible for identifying the office on campus that handles arrangements and signing yourself up.
Commencement Invitations and Guests
We want you to enjoy your big day as much as possible so we think it's important to have your friends, family, mentors and guests celebrate with you! We will issue three tickets per graduate this year.
Feel free to share these images with friends and family via email or social media. Use #CUNYBA #IamCUNYBA.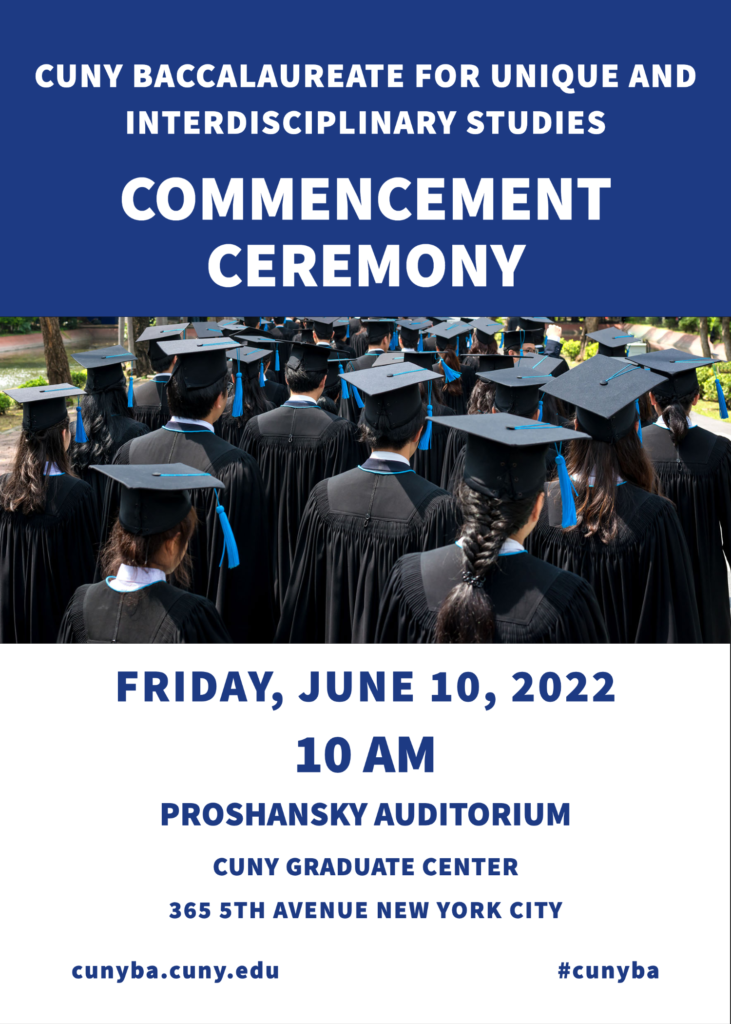 Speaking of Social Media…
Are you following us?! You should. Use #CUNYBA #IamCUNYBA to share your special day.